Hello, salaam to readers, connected people with bahria town projects had busy day in searching forms of these two projects. Today reminds a day when bahria town launched sector-c of bahria town Lahore, the same situation was people were trying to get much as they could. Well, i m not gonna tell the features of these projects, farhan ( sub-editor) of propertyblog.pk has already written , and people especially people of Karachi are also less interested in features too, they already knew it, after the result of Karachi residential and bahria town icon.
Well, when this projects has launched today without any earlier intimation, In the morning forms were easily available and the people started moving to bahria town offices and subscribed banks and got forms easily, scenario got different in afternoon, because in the morning people have must engaged in their routines works, and they were thinking too should they purchase and quantity too, but they were unaware what will be a condition in evening. and problem also occured the people whom luckily got the forms in the morning, they purchased as many as they could, it is because each form were available at the price of the 500rs. and in the evening they just sold it in black in three to five thousands." Opal and Hoshang pearl forms were sold in the black all major cities of Pakistan. and here i also want to mention bahria town may also included in creating of this kind of shortage, because in ad it mentioned you can download form from the internet but when yo go to site you just get details of banks and their branches, through this strategy he finds more hype and attention, but the major reason is behind it , people have already seen the result of bahria town Karachi slips,  the people whom deprived in booking of Karachi registration and whom which successful  at that time , both can't  miss it."
Bahria town already got the attention of all over the Pakistan, these recent projects in Karachi got attention not in Karachi only even the people lives in small cities are also getting interest. well nowadays all over the Pakistan it is the most hot topic regarding real estate. bahria town gives a chance to you, even you have small pockets you could also enjoy it but just in the beginning. now the game is already began due to shortage of time well what gonna be happened after submission registration that cost is 100,000pkr. Most of the people are just buying to short term business. they will just register it for short term investment not aim for mature, it really need a great money to mature it. but you could earn money as much as you can.  i suggest to those people taking this forms for short term investments must sell their forms before offering of real launching. at that time forms value will be nothing except a simple paper. because then bahria town will sale these projects to  them whom will afford to mature these projects.
Well, now people main question is that, how they will get this forms at the flat rate. i think the People of Karachi may success to get these new projects at flat rates, and tough for Lahore and Islamabad. i don't think bahria town gonna produce more forms at very next day. so you have to buy these forms at black and may be the rates of these OPAL 225 AND HOSHANGPEARL cross 50,000rs. So the people luckily got these forms which will earn 50 k on doing investment of just 500 rs. Bahria town Karachi new forms are now being considered as a confirmed prize bonds :-). Well, may be after two or three days or after one week bahria town will produce more forms and you would get easily. it totally depends upon Bahria town Strategy. Now i think as a student of business , even multinational companies can't  compete the marketing strategy of Bahria town.
In the end i say prefer Opal 225 because it has more options like shops, hotel, food court and five start hotel and Hoshang pearl is just about service apartment. so the trend of opal 225 will more good comparatively.
Well this is an ad of Opal 225 and Hoshang Peal . Here you can see the procedure and features claimed by Bahria Town Karachi.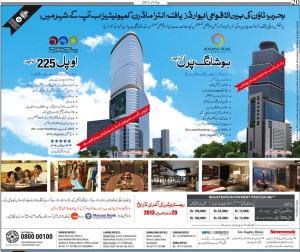 Well, for any information of any project of Bahria town call me on my following numbers.
Usman bin Khalid 0301-4442226, 0324-4442226. Email : ubinkhalid@gmail.com
P.S: Today rate of bahria town Karachi forms went down and it settled about 125,000 pkr.