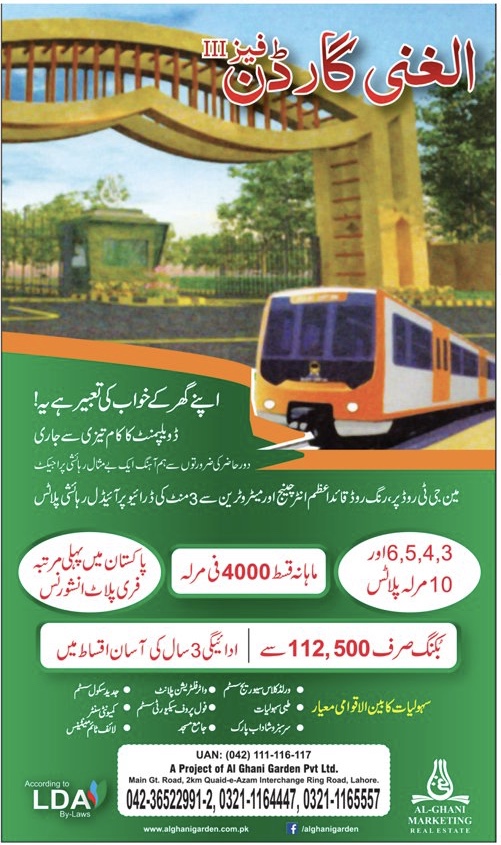 Al-Ghani Developers and Builders, recently lauched Al-Ghani Garden Housing Scheme Phase 3, after the success of Phase 1 and Phase 2. Al-Ghani Garden offers various sizes of both residential and commercial plots on instalments and cash payment. Project has 3 Marla, 4 Marla, 5 Marla, 6 Marla and 10 Marla plots. Most of the plots are booked now, only few plots are available for booking on first come ofrst served basis.
With all basic amenities and facilities, project has many commercial shops providing a easy approach to its market for the residents. More than 50% development work has completed and many houses are under-consutruction. A proposed Educational institute will be also the part of this society. Many other main points, Schools, Colleges and Public Transport are just few minutes drive away. Moreover, Al-Ghani Developers introduced free plot insurance and giving you a ease to select your own way of instalment plan.
Location:
Al-Ghani Garden Phase-3, is located at ideal location of main G.T road. Project is almost 3 minutes drive away from Quid-e-Azan Interchange and Ring Road. Due to near by Ring Road, project is approximately 10 minutes drive away from Illama Iqbal International Airport and DHA. Harbanspura Underpass and main canal road is easily approachable from this project.
Facilities and Amenities:
Carpeted Road & Street Lights.
Water Filteration Plants.
Mosque, Parks and Play Grounds.
Building Control Department.
Society Own Community Centre.
Commercial Avenu.
Gated Community with Boudary Wall.
Security system.
Grave Yard.
Sewerage & Fire Fighting System.
Payment Plans:
Option-1:
3 Marla:
Cash Price: Rs 13,35,000/-
Booking: Rs 133,500/-
Confirmation: Rs 133,500/-
Allocation: Rs 133,500/-
36 Monthly Instalments: Rs 15,000/-
3 Yearly Instalments: Rs 131,500/-
4 Marla:
Cash Price: Rs 17,80,000/-
Booking: Rs 178,000/-
Confirmation: Rs 178,000/-
Allocation: Rs 178,000/-
36 Monthly Instalments: Rs 20,000/-
3 Yearly Instalments: Rs 175,333/-
Option-2:
Option-2 payment plans gives you the liberty to select your own instalments plan.
3 Marla:
Cash Price: Rs 13,35,000/-
Advance Payment: Rs 30%
3 Years Monthly & Quarterly Instalments: Rs –
4 Marla:
Cash Price: Rs 17,80,000/-
Advance Payment: Rs 30%
3 Years Monthly & Quarterly Instalments: Rs –
For more details & booking:
0321-1164447, 0321-1165557