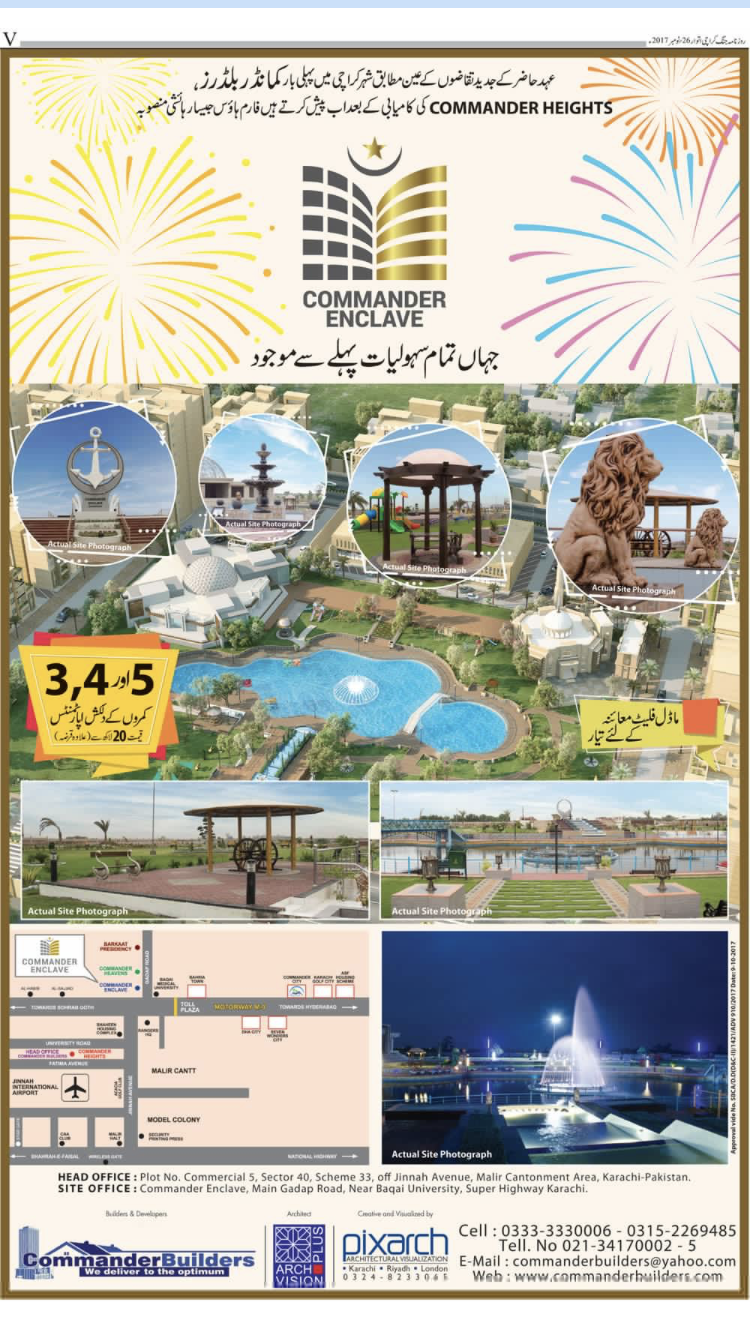 After the success of Commander Heights, Karachi based builders Commander Builders(SMC Pvt-Ltd), recently launched another residential project at main Godap road. Project offers three rooms, four rooms and five rooms apartments on instalments and cash payment. Commander Enclave comprises Ten story high-rise apartments in Phase-2 and five story cottages in Phase-1. There are about six categories of each size of apartments with different payment plans, which you can find it below this post.
Location:
Commander Enclave in Karachi, is located at main Godpa road. Almost two minutes drive away from Baqei University and directly connecting to Karachi-Hyderabad Motorway. The exact map location is mentioned below:
Features & Amenities:
Surrounded by Gardens & Fountains.
Central Lake.
Club House.
Mosque.
24/7 Security.
Spacious Area for Park and Play area.
Main Entrance.
Shopping Centre:
Commander Enclave will also provide a commercial centre to provide ease and meets the requirement of its residents. Commercial shops of different categories, from exclusive to basic shops will also the part of this project.
Club House:
Club House of Commander Enclave will include Gym, Swimming Pool, Game Rooms, Cinema, Food-Court and Coffee shops.
Payment Plan:
5 Rooms Type A1:
Total Cash: Rs 48,00,000/-
Booking: Rs 200,000/-
Confirmation: Rs 200,000/-
Allocation: Rs 200,000/-
Start of work: Rs 200,000/-
42 Monthly Instalments: Rs 65,000/-
7 Half Yearly: Rs 180,000/-
On Finishing: Rs 10,000/-
Extra Charges:
Park Facing: Rs 200,000/-
West Open: Rs 200,000/-
Corner: Rs 200,000/-
4 Rooms TypeB Gold:
Total Cash: Rs 39,00,000/-
Booking: Rs 200,000/-
Confirmation: Rs 200,000/-
Allocation: Rs 200,000/-
Start of work: Rs 200,000/-
42 Monthly Instalments: Rs 50,000/-
7 Half Yearly: Rs 140,000/-
On Finishing: Rs 20,000/-
Extra Charges:
Park Facing: Rs 150,000/-
West Open: Rs 150,000/-
Corner: Rs 150,000/-
4 Rooms TypeB Silver:
Total Cash: Rs 36,00,000/-
Booking: Rs 200,000/-
Confirmation: Rs 200,000/-
Allocation: Rs 200,000/-
Start of work: Rs 200,000/-
42 Monthly Instalments: Rs 48,000/-
7 Half Yearly: Rs 100,000/-
On Finishing: Rs 84,000/-
Extra Charges:
Park Facing: Rs 150,000/-
West Open: Rs 150,000/-
Corner: Rs 150,000/-
4 Rooms TypeB Platinum:
Total Cash: Rs 34,00,000/-
Booking: Rs 200,000/-
Confirmation: Rs 200,000/-
Allocation: Rs 200,000/-
Start of work: Rs 200,000/-
42 Monthly Instalments: Rs 45,000/-
7 Half Yearly: Rs 100,000/-
On Finishing: Rs 10,000/-
Extra Charges:
Park Facing: Rs 150,000/-
West Open: Rs 150,000/-
Corner: Rs 150,000/-
3 Rooms Type C:
Total Cash: Rs 20,00,000/-
Booking: Rs 150,000/-
Confirmation: Rs 150,000/-
Allocation: Rs 150,000/-
Start of work: Rs 150,000/-
42 Monthly Instalments: Rs 28,000/-
7 Half Yearly: Rs 40,000/-
On Finishing: Rs 44,000/-
Extra Charges:
West Open: Rs 80,000/-
Corner: Rs 80,000/-
3 Rooms Type C1:
Total Cash: Rs 27,00,000/-
Booking: Rs 150,000/-
Confirmation: Rs 150,000/-
Allocation: Rs 150,000/-
Start of work: Rs 150,000/-
42 Monthly Instalments: Rs 38,000/-
7 Half Yearly: Rs 65,000/-
On Finishing: Rs 49,000/-
Extra Charges:
Park Facing: Rs 100,000/-
West Open: Rs 100,000/-
Corner: Rs 100,000/-
For More Details & Booking:
0333-3330006
0315-2269485