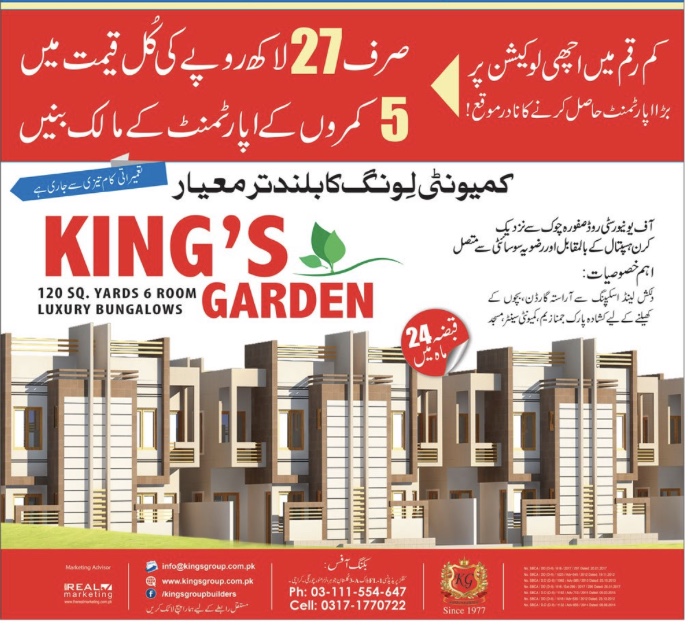 Kings Group has launched another residential project by the name of Kings Garden. The project consists of 120 sq yards one unit bungalows and 5 rooms luxury apartments. Booking is open for both apartments and bungalows on first come served basis and can be booked in 3 years easy installments or cash payment.
Location:
Kings Garden in Karachi is located at Scheme 33, off the university road near to Safoora Chowk and Rozciya Society and adjacent to Kiran Hospital.
Features & Amenities:
Spacious Car Parking Area.
CCTV Cameras.
Secured living.
Kids Play area.
Mosque.
High-speed lifts.
Parks & Play Grounds With Bungalows.
Gymnasium.
Community Centre.
Near to Commercial Markets.
Payment Plans:
120 Sq Yards Bungalows:
Cash Amount: Rs 125,00,000/-
Booking: Rs 45,00,000/-
18 Monthly: Rs 125,000/-
3 Half Yearly: Rs 300,000/-
Foundation: Rs 450,000/-
Plinth: Rs 450,000/-
Slab Casting: Rs 750,000/-
Block Masonry: Rs 750,000/-
Plaster: Rs 750,000/-
Finishing: Rs 750,000/-
Possession: Rs 950,000/-
Extra Charges:
West Open: Rs 200,000/-
Corner: Rs 500,000/-
Road Facing: Rs 200,000/-
Park Facing: Rs 200,000/-
5 Rooms Apartments:
Cash Amount: Rs 10,500,000/-
Booking: Rs 500,000/-
Confirmation: Rs 500,000/-
Allocation: Rs 500,000/-
Start of work: Rs 500,000/-
36 Monthly: Rs 47,000/-
6 Half Yearly: Rs 185,000/-
Foundation: Rs 400,000/-
Plinth: Rs 400,000/-
Slab Casting: Rs 90,000/-
Block Masonry: Rs 390,000/-
Plaster: Rs 390,000/-
Plumbing: Rs 390,000/-
Electrification: Rs 384,000/-
Finishing: Rs 384,000/-
Possession: Rs 17,00,000/-
Extra Charges:
West Open: Rs 150,000/-
Corner: Rs 250,000/-
Road Facing: Rs 200,000/-
Allocated Parking: Rs 300,000/-
For more details & booking:
111-554-647