Bahria Town has recently demanded possession and utilities installation charges in all of Bahria Town Lahore projects which include Bahria Town (Mohlenwal), Bahria Orchard, Bahria Education and Medical City and Bahria Nasheman.
Possession Charges:

Possession charges are one which Bahria collected at the time of construction of a house. Earlier plots were inclusive of possession charges. So plots located in Sector A, B and C of Bahria Town Lahore are inclusive of possession charges. They don't need to pay it earlier, neither do they need to pay it now.
Find below the detail of all plots sizes possession charges
Utilities Installation Charges:

Utilities installation charges are one which Bahria collected at the start of the construction of a house. These charges included Electricity, Water and Gas installation. Everyone has to pay these charges when starting the construction of their house.
Find below the details of utilities installation charges of all plots in Bahria Town Lahore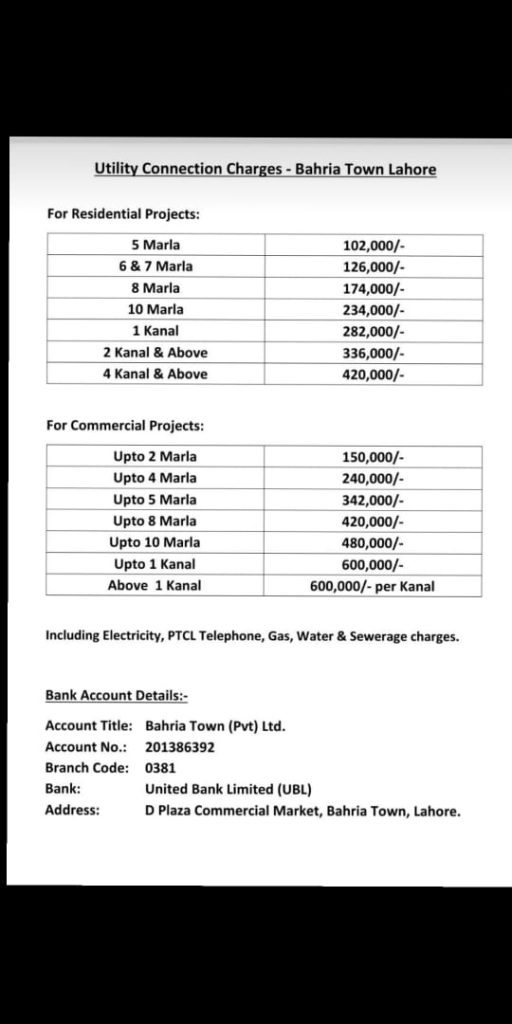 What is the Problem?

Possession charges and utilities installation charges both have to be paid later at the time of construction which Bahria is demanding upfront. Some people might have bought the plot for investment. They don't have any plans to construct a house on it. Why do they have to pay the possession and utilities charges? Others might have plans to start construction after a few years; Why do they have to pay these charges right now?
Effect on Property Market

Property market has been in a slump for quite a few years. Govt. has recently announced a relaxation in property taxes. Property analysts were expecting to see a growth in property investments. DHA and Bahria Town are the two most favorite places for property investors. But such untimely charges by Bahria Town Lahore will drag people to invest elsewhere than Bahria Town.
Short Term Thinking by Bahria

Bahria might be able to collect these possession and utility charges from plot holders but lose the chances to earn lots of transfer fees by the investors' plots transaction. It is a small and short term thinking as Bahria have to ultimately receive those possession and utility charges at the time of construction but will lose a large number of transfer fees.
It's like killing the goose to collect the golden eggs.
Corona Pandemic Bad Timing

Mr. Malik Riaz of Bahria Town has a face of philanthropist. He gives lots of charity every year. Further at the time of crisis he always steps forward to help needy people.
Now at this stage when the whole world is in crisis. People are out of business. Some people are getting half of their salary. Whole economy system is jammed.
At this time when we need to give money and show sympathy, Bahria is demanding extra charges. This timing is also making people furious.
Suggestions to Bahria:
Bahria Town should not impose untimely charges to plot holders right now. Property market has just seen a good news from Govt. They have just seen the glimpse of sunrise right now. Give more ease to property investors to attract in Bahria Town property market otherwise people will start looking for other housing societies as option to invest.
This way Bahria customers will remain delighted and Bahria will earn from transfer fees and lots of new customers.
Bahria Town should focus to launch another sector to attract those investors which can pay in installments. This is the right time to give incentives, not to demotivate existing investors.