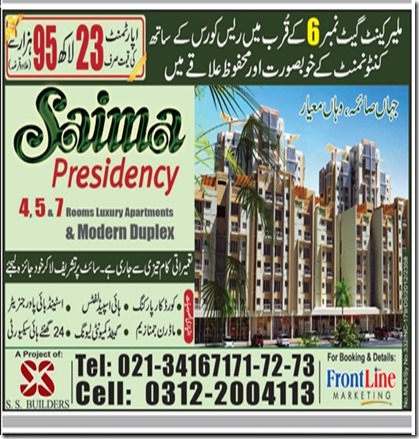 Saima presidency is a on going residential project by Saima builders and developers and Marketed by Frontline Marketing . As you see in above press add project offers various sizes of luxury apartments on installments and cash payment . The development work of the project is also under work . And project is now open for booking on first come first served basis . Here is the details of this project mentioned below :
Location : Saima presidency in Karachi is located at very near o Malir cantonment , Project developers claimed that this project is located at very peaceful and calm area of Karachi , situated at 200 feet wide main road , very near to Mali cantt gate no 6 .Other commercial projects , markets and residential project is also near to it .
Booking : Booking is open for this project cash price of the apartment is starts from Rs 23,95,000/- . Booking for apartments is starts from Rs 90,000/- and rest of the amount will be paid in 36 monthly installments and 6 half yearly installments . Monthly installments starts from 12 ,000/- . Go to further posts to check detailed payment plans .
For more details :
021-34167171