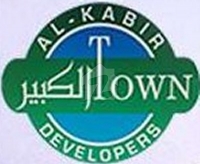 The world's population is rapidly increasing all over the world. Pakistan is also included in the list of fastest growing population countries. Well, Lahore is the second largest city of the country. As per census results, Lahore's population grewing twice, as fast as Karachi. The need of homes is also growing along with the population explosion. That is why, the space within the cities are almost saturated. Almost ten years ago, the canal road was the only option for the citizens of Lahore. Because, there were a lot of new societies and towns.
Now, the new tendency of the people of Lahore is Raiwind road. There was a time when people used to think of this area out of the city, but that time has changed. And now people are moving to surrounding areas of Raiwind road. Because of rushy areas, traffic burden and hassle in the city.
AL-Kabeer Phase 1
There are many societies and towns on Raiwind  road. But the only talk of the town is Al-Kabeer Town. Al-Kabeer town has emerged very mercurially in recent times. It has launched its Phase -1 a almost a year ago. I personally do not like the location of phase 1. It is adjacent to Beaconhouse University & near to Bahria Town Lahore. It is not on any of main road, neither Raiwand Road nor Multan Road. Allthough, it was a small phase but the development & commitment was startling.
AL-Kabeer Phase 2
After the successful launch of Phase 1. Al-Kabeer town has launched their second phase this year. This time, they have decided to come in main frame of the real estate world. They acquired land in main Raiwind Road,  opposite to  Lake City. Now according to me this is much attractive location. Raiwand road has become widened throughout to Al-Kabeer Town. This location has a very good approach from the main city and also through to Raiwind City. Al-Kabeer Town offered 3 marla, 5 marla, 8 marla, 10 marla & 1 kanal plots. They also offering commercial plots on instalments. Moreover, 3 marla plots have been very attractive to the investors, its prices are low and everyone can afford in instalments.
Payment Plan Phase 2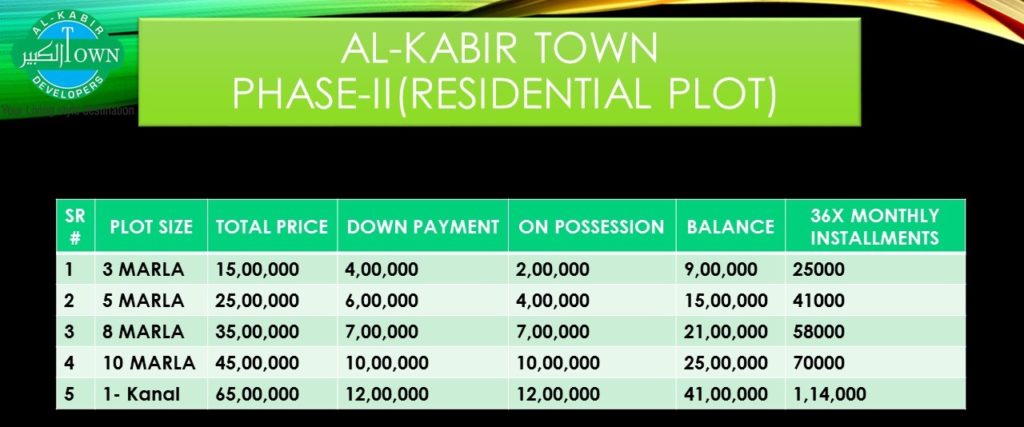 Features:
● Parks
● Gated Community
● Commercial Areas
● Mosque
● School
● Hospital
● Cinema
Conclusion:
Al-kabir Town is a new name in real estate world. People don't know much about their projects, but so far they are doing very upto the mark work and attract more customer's attention. Their development pace is also speedy as compared to other big societies near by it. When you visit the site, you can see a lot of development work is going on. Actually, they are following Bahria Town, their working style & speed is just like Bahria town.
3 marla plots are in low prices and affordable to every type of investor. I think people should go for 3 marla plots because, now a days rates are low every where. According to me, the time is near when the prices will rise soon. If any one want to buy a plot on instalments and has low budget, you can go for Al-Kabeer town. One of the reason of the success of this society is that a lot of Bahria Town dealers are entering and opening there offices in Alkabir town. 'More dealers mean more success of any society'. As per their previous project we can trust them, hopefully they will deliver in time. And I am more optimistic about the fact that Al-Kabeer town will give possession before time.
For more information,sale & purchase call me
Muhammad Faisal Khan     0321-4229424
fazzkhan.fk@gmail.com