Citi housing faisalabad is official membership is opened now, As we know last week Malik Riaz was the chief Guest of ground breaking ceremony of Citi housing Faisalabad, Malik riaz as a Chief Guest given sound and positive impact on citi housing faisalabad. Because Both had family dispute and what so ever but now after presence of Malik Riaz in openeing ceremony look sort out Well, as you know Soft booking has been open from last one month,and dealers has booking it. One year citi housing faisalabad given in the market at the price of 25,0000 and there were lot of trading in these forms at that time and maximum traded at the price of 80,000 then went down terribly, People have earned and facing loss in these forms, From last 45 Citi housing faisalabad forms raised dramatically and traded maximum in above 250,000 that was splendid upward, well now these forms are trading between 150,000 to 200,000 rates fluctuates on daily basis.
Why price of these forms raised dramatically? it is beacuase due to launching of citi housing faisalabad, Market has been raised by after involvement of citi housing management, This is same tactic / strategy taken from Bahria Town. Well here is not a discussion why they do that. Well as we know citi housing projects owned by Major Aamir who is the son – in- law of Malik Riaz. and he had  a big role in development of Bahria Town Lahore. and another good news is for citi housing Faisalabad that is approved by Faisalabad Development Authority ( FDA). Because we have seen dispute between Citi housing Faisalabad and FDA, but now it has been sort out and now it approved housing scheme.
Well from the Forms of Faisalabad citi housing may will go up after official announcement, and Form will enclose with every booking, One who is going for booking in citi housing faisalabad need Form and he has to buy this form in the market, Similarly people brought bahria town karachi slip which is attached in booking of Bahria town Karachi. 
Citi housing Faisalabad is now official launching in Faisalabad, offering 5 , 10 and 1 kanal residential plots in three years of instalments. The submission of booking through citi housing faisalabad office and assigned branches of MCB Bank.  Well for booking and payment plan click on the below link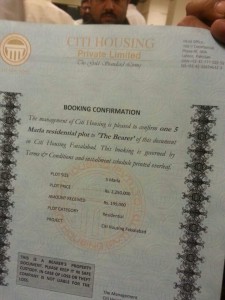 Here is an image of confirmation letter of 5 marla plot of citi housing faisalabad. Well my suggestion go only for residential project in citi housing faisalabad not commercial, because people have earned loss millions in commercial project of citi housing Sialkot, Well residential will be a profitable in term of trading ( for short term / speculation ) and in the long run it will be a best housing scheme in Faisalabad due to infrastructure , ambience, landscape and facilities ( same like bahria town)
Well, for booking, information , trading in Citi Housing Faisalabad and forms contact on the following number.
ATTIQUE REAL ESTATE
Ch. Attique sadiq       0323-4244428,  0300-4244439  , 0423-7862066-67
Address: 1st Floor 10-A Commercial boulevard Sector-C Bahria Town Lahore.