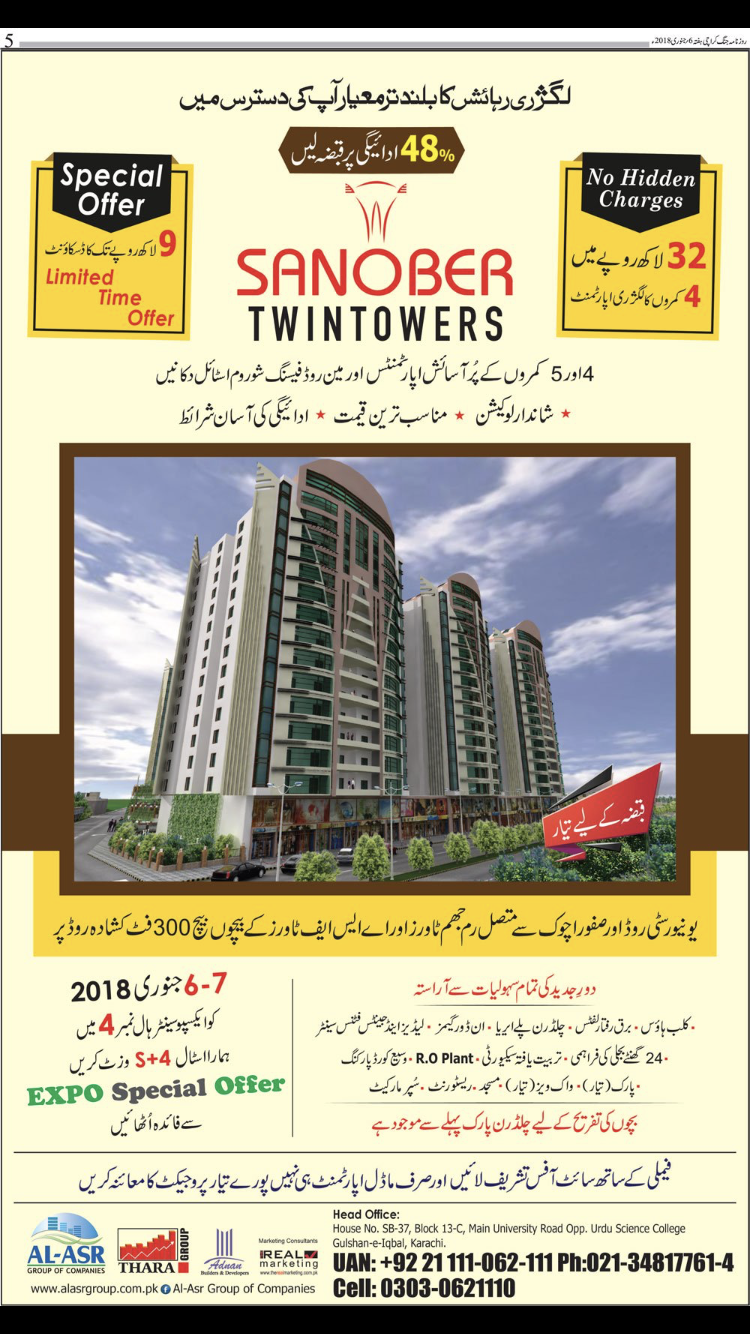 Sanober Twin Tower is an ongoing residential project by Al-Asar Group Karachi. Project offers 4 rooms and 5 rooms family apartments on installments and cash payment with all basic facilities. Sanober Twin Towers is now giving special discount of Rs 900,000/- 7th, January and 6th January. To avail this offers you have to visit Expo centre hall no. 4. Starting price of apartment is Rs 32,00,000/- and on installments, possession will be handed over after 48% payment.
Location:
Sanober Twin Towers is located at main 300 feet wide university road and adjacent to Safoora chowk and situated between Rim Jhim and ASF Towers.
Facilities & Features:
High speed lifts.
Club house.
Indoor games & kids play area.
Ladies & gents fitness centre.
24 hours supply of electricity.
Super market.
Restaurant.
R.O Plant.
Spacious car parking area.
Payment Plan 4 Rooms:
1st to 3rd Floor:
Cash payable: Rs 41,00,000/-
Booking: Rs 300,000/-
After 1 Month: Rs 300,000/-
Confirmation: Rs 300,000/-
Allocation: Rs 300,000/-
Monthly: Rs 30,000/-
Quarterly: Rs 85,000/-
Block Masonery:Rs 200,000/-
Plaster: Rs 200,000/-
Plumbring: Rs 200,000/-
Electrical: Rs 200,000/-
Flooring:Rs 200,000/-
Coloring: Rs 200,000/-
Finishing: Rs 150,000/-
Possession: Rs 150,000/-
4th to 6th floor:
Cash payable: Rs 39,50,000/-
Booking: Rs 250,000/-
After 1 Month: Rs 250,000/-
Confirmation: Rs 250,000/-
Allocation: Rs 250,000/-
Monthly: Rs 30,000/-
Quarterly: Rs 85,000/-
Block Masonery:Rs 200,000/-
Plaster: Rs 200,000/-
Plumbring: Rs 200,000/-
Electrical: Rs 200,000/-
Flooring:Rs 200,000/-
Coloring: Rs 200,000/-
Finishing: Rs 200,000/-
Possession: Rs 150,000/-
7th to 9th floor:
Cash payable: Rs 38,00,000/-
Booking: Rs 200,000/-
After 1 Month: Rs 200,000/-
Confirmation: Rs 200,000/-
Allocation: Rs 200,000/-
Monthly: Rs 30,000/-
Quarterly: Rs 85,000/-
Block Masonery:Rs 200,000/-
Plaster: Rs 200,000/-
Plumbring: Rs 200,000/-
Electrical: Rs 200,000/-
Flooring:Rs 200,000/-
Coloring: Rs 200,000/-
Finishing: Rs 200,000/-
Possession: Rs 200,00/-
Payment Plan 5 Rooms:
Cash payable: Rs 6,050,000/-
Booking: Rs 300,000/-
After 1 Month: Rs 300,000/-
Confirmation: Rs 300,000/-
Allocation: Rs 300,000/-
Monthly: Rs 35,000/-
Quarterly: Rs 90,000/-
Block Masonery:Rs 200,000/-
Plaster: Rs 200,000/-
Plumbring: Rs 200,000/-
Electrical: Rs 200,000/-
Flooring:Rs 200,000/-
Coloring: Rs 200,000/-
Finishing: Rs 150,000/-
Possession: Rs 150,000/-
3rd to 6th floor:
Cash payable: Rs 5,900,000/-
Booking: Rs 300,000/-
After 1 Month: Rs 300,000/-
Confirmation: Rs 300,000/-
Allocation: Rs 300,000/-
Monthly: Rs 35,000/-
Quarterly: Rs 90,000/-
Block Masonery:Rs 200,000/-
Plaster: Rs 200,000/-
Plumbring: Rs 200,000/-
Electrical: Rs 200,000/-
Flooring:Rs 200,000/-
Coloring: Rs 200,000/-
Finishing: Rs 200,000/-
Possession: Rs 150,000/-
7th to 9th Floor:
Cash payable: Rs 5,750,000/-
Booking: Rs 250,000/-
After 1 Month: Rs 250,000/-
Confirmation: Rs 250,000/-
Allocation: Rs 250,000/-
Monthly: Rs 35,000/-
Quarterly: Rs 90,000/-
Block Masonery:Rs 200,000/-
Plaster: Rs 200,000/-
Plumbring: Rs 200,000/-
Electrical: Rs 200,000/-
Flooring:Rs 200,000/-
Coloring: Rs 200,000/-
Finishing: Rs 200,000/-
Possession: Rs 200,000/-
Extra Charges:
Road facing: Rs
Corner: Rs
West open: Rs
Park facing: Rs
For more details:
021-111-062-111