In my last pots on Effects of Lahore Ring Road on Bahria Town people were very curious to know the exact dimension, area or map of the Lahore Ring Road (southern loop). Well I've seen a good work done by lahoreestate.org. I've taken the picture of Southern loop passing through the Bahria Town. Check it below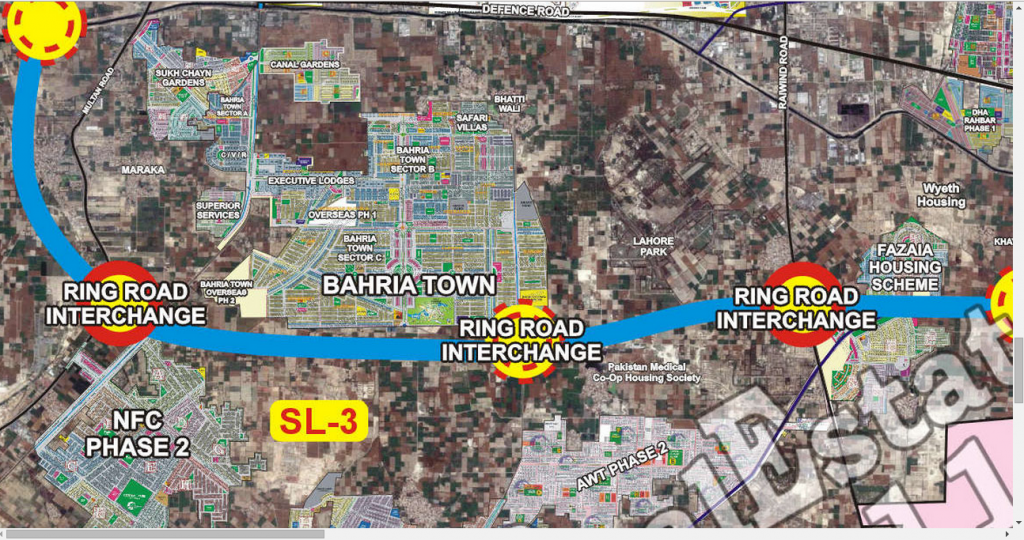 You can see the complete map of Lahore Ring Road on this link.
I believe this website is showing the already decided Lahore Ring Road map (the old one). I'm not sure if the new one is exactly like this or the Govt. has made some changes in it. What we are doing right now is making assumptions based on this Lahore Ring Road map.
This map is not showing the Sector E, Sector F and Golf View Residencia of Bahria Town Lahore. Let's see specificaly about each sector.
Sector E:
Sector E is the most effected sector from Lahore Ring Road. It is passing through the already defined area in this post. Though it might take little more space.
Sector F:
Sector F is completely safe. This Lahore Ring Road is not passing through any part of Sector F.
Golf View Residencia:
Golf View Residencia is a question mark. As they have not identified the Golf View Residencia map on it, it is so hard to answer the question. In any case Ring Road is passing along with Golf View Residencia (if not through). Golf View Residencia map is in cylinder shape touching the Raiwind Road so it is quite possible that Ring Road will pass right next to this block.
Conclusion:
 Map has not mentioned the Sector E, Sector F, Golf View Residencia etc. which clearly shows that this is the old work. This is an old map not a new one. If Lahore Ring Road built on old map then we have the effects of it on Bahria Town. If Govt. came out with some new plan for Southern Loop of Lahore Ring Road then we are not in a position to give the exact areas which will be affected by it.