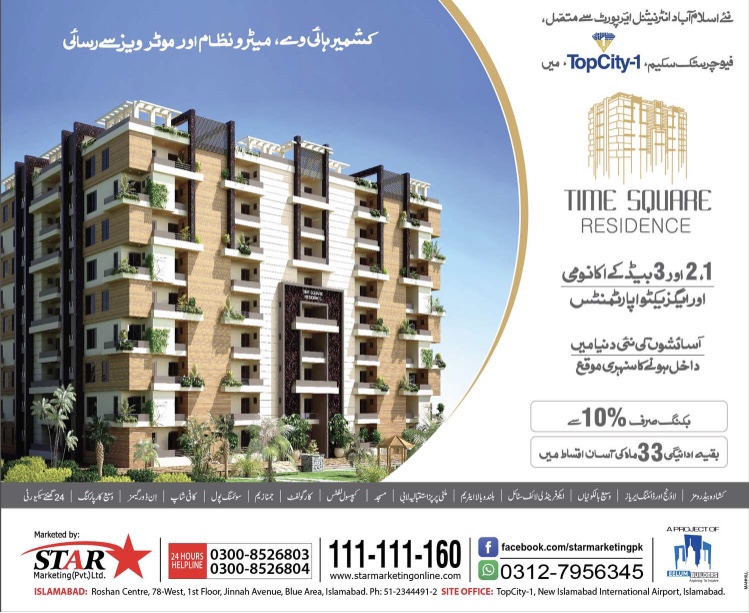 Time Square Reaidency in Islamabad is another new residential project, launched by EELUM Builders anD Developers. Project offers 1 bed, 2 bed and 3 bed, economy and and executive apartments. Booking starts from 10% down payment and rest of the amount will be paid in 33 easy instalments.
Location:
Time Square Residency apartments, located at Top City-1, housing scheme. Which is few minutes drive away from Islamabad International Airport and easy accessible from Kashmir Highway and Metro.
Features & Facilities:
Round the clock security.
High speed lifts.
Separate car parking area.
Swimming pool & coffee shop.
Gymnasium.
In-door games.
Mosque.
Spacious lobbies.
Wide balconies.
Payment Plans:
1 Bed:
Total Price: Rs 36,00,000/-
Booking: Rs 360,000/-
Confirmation: Rs 360,000/-
Allocation: Rs 360,000/-
33 Monthly Instalments: Rs 35,000/-
5 Half Yearly: Rs 200,000/-
On Possession: Rs 365,000/-
2 Bed Economy:
Total Price: Rs 74,40,000/-
Booking: Rs 744,000/-
Confirmation: Rs 744,000/-
Allocation: Rs 744,000/-
33 Monthly Instalments: Rs 70,000/-
5 Half Yearly: Rs 420,000/-
On Possession: Rs 798,000/-
2 Bed Executive:
Total Price: Rs 10,650,000/-
Booking: Rs 1,065,000/-
Confirmation: Rs 1,065,000/-
Allocation: Rs 1,065,000/-
33 Monthly Instalments: Rs 100,000/-
5 Half Yearly: Rs 650,000/-
On Possession: Rs 905,000/-
3 Bed:
Total Price: Rs 12,900,000/-
Booking: Rs 1,290,000/-
Confirmation: Rs 1,290,000/-
Allocation: Rs 1,290,000/-
33 Monthly Instalments: Rs 125,000/-
5 Half Yearly: Rs 720,000/-
On Possession: Rs 1,305,000/-
Extra Charges:
Corner: 10%
Ground Floor: 5%
1st & 2nd floor: 3%
3rd floor: 2%
Car Parking Area: Rs 400,000/-
Servent Quarter: Rs 800,000/-
For more details & booking:
111-111-160