---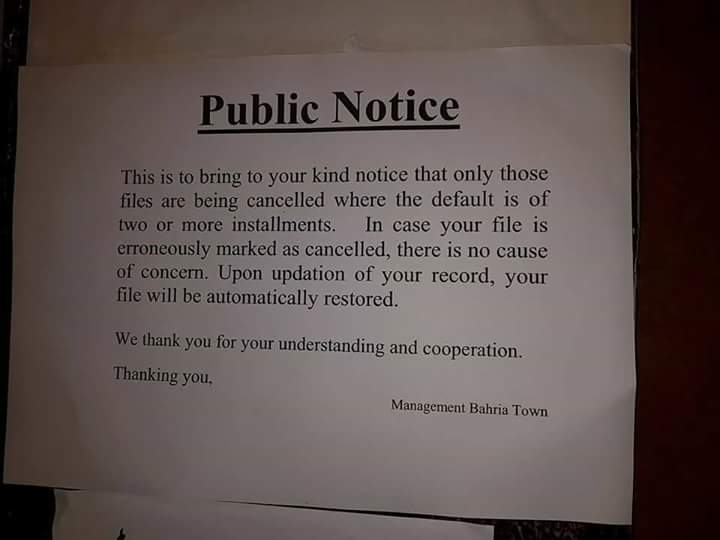 Hello, hope you find this post with good health. Well, per given notice bahria town has blocked files for cancellation due to shortage of 02 or more instalments. They had given first deadline 31-10-2016 and then extended up to 10-11-2016 with 100% surcharge waiver facility. So in old project  9th paid files or allotment has blocked now, similarly in new project ( Ali block, Bahria Heights) five paid file/allotment has also blocked.
Some 10th or 11th paid files are also blocked due to pending of update issue but it will restore automatically after record update as noted in image.
Now this is really a worried situation for those facing this Circumstances. My question is that how can you cancel yours member property without prior notice served. No one received any sort of cancellation notice through courier or any other medium. Every member is not a dealer and unable to keep contact with market on daily basis. How yours member across the Pakistan or Globe able to know your cancellation warning which you just put in your offices? As we know Bahria Town Karachi sold all across the Pakistan.                                                                                                                                                                    Bahria probably answer's " In case of two or more instalments, Bahria town has right to cancel files/plot without given notice as per agreement". Even though this is not justified in current situation and we have seen  bahria town break its own commitment so many times even after publicly announcement like " Sports City had to ballot after 1st instalment, All 10 paid files got balloted announced by Malk Riaz itself, and so on". We have also seen dark projects in Lahore as well i.e Bahria Greens, Golf View, Sector-F issue, Civic Commercial and so many other promises made by Bahria Town.
There is another twist in market that is  Pay-order, demand-draft before date of 10th are selling at ONN/Profit. Affectees are ready to buy for sake of their property. it has experienced before due date pay orders were accepted by Bahria and they restored blocked property. I think  bahria has adopted this strategy to threaten people to collect the instalments and will give grace period for submission of pending dues. In previous instalment they have given the charm of balloting, and this time offered 100% surcharge waiver but also with cancellation notice.  Due to market situation after taxes . Members were avoiding to pay their dues especially in case of non-balloted files and those purchased file/plots at high prices with aim of short term investments.  
In case, Bahria Town Karachi will not restore blocked files then affected should do organise protest in-front of Bahria Office.  A great collective effort need to reverse this decision. We have seen only 60 to 70 active protestors restored their Sector-F Files in Lahore. Though Bahria has a right to cancel the property due to shortage of 2 or more instalments but this type of cancellation acceptable in healthy market situation but not when market is already downward.
A point needed to clear about this website. We also appreciate  Malik Raiz and Bahria management against their infrastructure, Speedy development, facilities and timely delivered projects and that is a fact. Due to that we  got many negative comments in previous articles especially on Sector F and people, readers, alleged us that we are doing working on the pay roll of Bahria Town management, The truth is that we always try to portray the real picture instead of biased analysis.
Feel free to contact me.
Email: ubinkhalid@gmail.com
Your comments are always welcome, yours query will be answered through comment box.